Doors currently closed

We'd love to have you along next time! 
It's an 8-week course, and this time you get three weeks off over Christmas. You'll have plenty of time to relax, eat mince pies, then come back all motivated and refreshed in the New Year. 
You'll also get our famous Good Ship lifetime access to work through the course at your own pace.
We know life gets busy. It's aaall good.
Click here to join the waiting list
Transform your picture book life in just 8 weeks...
Want to create books that small people and their grown-ups absolutely love?



Curious to see if there's a your-picture-book-shaped hole in the world?


Good news...there IS!
The world *needs* your picture book.

It's time!
The Good Ship Illustration Picture Book Course is here at last! Salty is ready to set sail with you on an 8-week adventure...
Here's What You Get
Signposts, expert guidance and friendly encouragement to help you find YOUR unique way of making picture books. We'll make sure you avoid the most common bumpy bits where picture book people get stuck.
We've made the mistakes so you don't have to.
You'll also get a generous scoop of structure, guidance, encouragement and freedom to finally figure out your picture book, and to be proud of it!


The Good Ship crew will cheer you on as you...
Plan,
create,

and get discovered!
Creating your best ever picture book YOUR way will help publishers/clients trust you. You'll learn how to make picture books from a place of playful curiosity. 


It really is allowed to feel this fun and easy!


Gain self-confidence and belief in your picture-book-illustrating genius.

And you have LIFETIME ACCESS which means you can go at your own pace, join in all future picture book Zoom calls and get access to all the new content we make for years to come! Future you will be so happy you climbed aboard! 🥳
So even when you have an international best selling classic on your hands, and have loooong forgotten us 😭, we'll still be here in case you need us!
There's never been a better time.
*plus*
Exclusive Interviews with International Award-Winning Picture Book Industry Professionals
the creme de la creme of the Picture Book world
PUBLISHER - ALISON GREEN
Alison has published lots of picture books; including bestselling and award-winning titles by Julia Donaldson and Axel Scheffler. (And our Helen's How to Hide a Lion series!)

YASMEEN ISMAIL
Award-winning author, illustrator and animator.

POLLY DUNBAR
Author/illustrator known for her book Penguin, and her CBeebies series Tilly and Friends.

JARVIS 
Award-winning picture book author and illustrator with over 1,000,000 books sold!

VIVIAN FRENCH 
Writer and co-founder of the acclaimed Picture Hooks mentoring scheme for illustrators.

PRINTED PEANUT
AKA Louise Lockhart, who has illustrated non-fiction books and has her illustrations printed on all sorts!

MIQUE MORIUCHI
Mique Moriuchi works with bits and pieces, textured paint and collage for her rich and unique pictures for children's books such as Granny Torelli Makes Soup and Talk Peace.
DEIRDRE MCDERMOTT AND MARIA TUNNEY - WALKER BOOKS
Deidre is the picture book publisher at Walker Books and Maria is senior commissioning picture book editor. They are the dream team!
LIBBY VAN DER PLOEG
Illustrator and map maker, her latest non-fiction book is A History of the World in 25 cities.
EMILY HAWORTH-BOOTH
Author, illustrator and educator with a passion for activism! 


CAMILLA REID

Pre-school book expert. She has worked in children's books publishing for over 25 years. She co-founded Nosy Crow, the award-winning children's publisher, where she spent 11 years as Editorial Director, conceiving, writing and producing the Preschool and Novelty list. Camilla is now an independent author and deviser of children's books. 
REBECCA GREEN
Illustrator, painter, and author working in children's publishing, editorial, and fine art.

CATHERINE RAYNER
Multi-award-winning author and illustrator, Catherine has written over 20 books for children and illustrated many more for other well-known authors including Julia Donaldson and Michael Morpurgo.
JESSICA HARE
Literary agent at The Agency, named as a Bookseller Rising Star of 2023.

BRITA GRANSTRÖM
Painter and illustrator from Sweden with heaps of experience of non-fiction and fictional picture book illustration. 

SHI-YU LIN
Illustrator and graduate of the MA in Children's Book Illustration from Cambridge School of Art.

SARAH DYER 
Her first book 'Five Little Fiends' won lots of fancy prizes. Since then she has written and illustrated lots more picture books with her distinctive mix media and collage style.

LUCY JUCKES
Lucy is a literary agent for writers and illustrators at Jenny Brown Associates, she is a Chair at Barrington Stoke Publishers and co-founder of the acclaimed Picture hooks mentoring scheme for illustrators.
BETH WATERS
Author and illustrator of the non-fiction picture book Child of St Kilda. It was nominated for the Kate Greenaway Medal 2020, works from the book were selected for the Bologna Illustrator's Exhibition and the AOI World Illustration Awards. 
MARGAUX KENT
Story Gatherer and Thing Maker. Illustrator of Lemony Snicket's Poison For Breakfast.
GILLIAN O'MARA
GI'll Ian sailed with the Good Ship and now has a picture book agent, a four book deal and many more commissions.
HELEN STEPHENS
Last but not least, it's our Helen!

Helen has illustrated approximately a bijillion books (over 60!)
She's best known for How to Hide a Lion, an international best selling classic.

She is here to generously share her wisdom and guide you through this 8-week course.
You're about to learn things that normally take YEARS to learn through trial and error.
Hold onto your picture-book-making hat.

🚢🚢🚢
Good Ship captains Tania and Katie (and Salty!) are coming along for the ride too. We're all here to cheer you on, answer your questions and make sure everything is ship-shape.
An 8 Week Online Course
8 week intensive e-course, with live teaching from Helen Stephens (and background cheering from Tania Willis and Katie Chappell)
Printables
WE LOVE PRINTABLES. Don't worry if you can't get access to a printer though - you can still do this course without a printer.
Specially Designed Tasks
Carefully crafted to fast-track your picture book creation. Save yourself years of fumbling about figuring things out the hard way.
Live Q&A Sessions
Get your burning questions answered! During the course, we'll chat to you live and share our 60 years of illustration experience.
Guidance and Tools
We will arm you with a handy toolkit so that you can make your very best picture book and get it out into the world. Skills to last you well into the future!
Videos
...audios, subtitles and transcripts too! We have done our best to make the course as accessible as possible for all learning styles.
Lifetime Course Access
We're not going anywhere, so you can relaaax and complete the course at your own pace. No panicking allowed on the Good Ship!
The Good Ship Community
The opportunity to be a member of our private online community of fellow Picture Book makers! Be part of our supportive network of friendly creatives.
Psssst! You save on your Adobe subscription too 💸
Salty had a quick word with the big bosses at Adobe on your behalf...
And now Adobe recognises The Good Ship Illustration as a proper educational establishment, which means you get a nice juicy discount on us! 😎
Of course, you don't *need* the Adobe Creative Suite to do any of our courses (start where you are! Use what you have!) But it's really nice to get the discount if you're using Adobe's stuff anyway :) 
And yes! This discount is for all Good Shippers, old and new, in any of our paid courses. Check "Welcome Week" for the details when the course begins.
The world needs your picture book

It's your time...
The world has a your-picture-book shaped hole in it.
We'd love to have you aboard!
Join the waiting list today
Pay in Full
£495
Picture book goodness, no nonsense
3-pay
£165
Spread the cost
Why Learn From The Good Ship Illustration?
3 eras of illustration industry knowledge. Three is a magic number!
The three bears of illustration
Each of us is from very different parts of this fast-changing illustration world, with individual industry & teaching know-how.

Over 60 years of experience, across the illustration industry.





We're all full-time illustrators. Our illustraton work supports us and our families - it's not a hobby. We are proof it's possible! Illustration can be a lucrative and rewarding career.





We've all taught illustration at university level 

(and we're all LOVELY). 

And it's not just us!
We've gathered the creme de la creme of the picture book world - leading experts in their industry to share their insights too.

Only the best for you!
Helen Stephens
Helen is an award-winning author, illustrator, best known, amongst other things for her 'How to Hide A Lion' series. 'How to Hide a Lion' has become known as an international bestselling classic of picture books.
She taught on the highly respected Cambridge School of Art MA in Illustrating for Children and has mentored graduate illustrators on the Picture Hooks Scheme. She started the popular #walktosee sketch-booking hashtag on Instagram.
As seen in: NY Times. Wall Street Journal. Uppercase. Guardian Book of the Year. Times Book of the Year. 'How to Hide a Lion' was nominated for the Kate Greenaway Medal, and her books have won lots of other fancy pants awards. Her books have been published in about 30 languages, and clients include: Walker Books, Random House, Scholastic, Penguin, Alison Green Books, David Fickling Books, Campbell Books, Nickelodeon Junior, Egmont, Simon and Schuster, Bayard Presse and Orchard Publishing.
Career highlights: How to Hide a Lion was adapted for the stage by The Polka Theatre and toured the UK, Helen won a BLUE PETER BADGE as a grownup by being on Blue Peter!
A couple of extra fun facts: She likes to draw in the rain and wears her dressing gown over her clothes to work.
Tania Willis
Tania is an award-winning designer/ illustrator with 30 years of experience, and an MA in Illustration from the Royal College of Art.
She has taught illustration at BA & BFA level in the UK and Hong Kong and has more than 20 years of perspective on the industry in Asia. Her illustration clients include English Heritage, Conde Nast Traveller, Cartier, Time, Waitrose Magazine and Swire Group.
Her illustration experience covers advertising, murals, editorial, design, surface design, licensing, publishing, branding, event, editorial and corporate - but her biggest passion is illustrated maps.
Plus we are so lucky, she designed our gorgeous ship-in-a-bottle Good Ship branding.
Career highlights: Designing a livery for an A330 Airbus and a Hong Kong tram.
A couple of extra fun facts: Tania taught Helen at Glasgow School of Art. She swears too much (unrelated to teaching Helen), loves Hong Kong trams and wanted to be in The Slits.
Katie Chappell
Meet Katie! Our most recent graduate (2012). She is a live illustrator working all over the world via the magic of the internet. Her clients include Facebook, Apple, Google and lots of the UK's top universities.
Her live illustration work covers everything from graphic recording in corporate meetings, to painting giant murals on shop windows in Regent Street, London.
Katie has an MA in illustration from Edinburgh College of Art, as well as a foundation degree in animation and a BA in illustration and graphic design. She's lectured illustration students from foundation to MA level.
Career highlights: Live-Illustrating in the boardroom for management at Google HQ in London. Painting giant boards for the Royal Society of Biology's gala dinner, where David Attenborough received a lifetime achievement award.
A couple of extra fun facts: Katie is an accidental TedX speaker, and is really good at backwards mirror writing and napping.
OK, but once I'm brimming with picture book ideas, how do I get my work in front of the right eyes?

👀
Well, in the Picture Book Course we ask some of the world's leading art directors, picture book designers, publishers and agents how they spot new talent and they spill all the magic picture book beans!
They share their best tips to get your work work in front of the right eyes, your foot jammed in the right doors, your bum on the right seats and your feet under the right tables!! (Stop with all the bums and feet!🦶🍑 ) 
Lifetime Membership
Lifetime member🚢  because we understand life gets busy, best laid plans and all that…
You can do a module every week OR if life gets 'lify' you can take a break and join in later OR you can go at your own sweet pace. 
The first rule of Lifetime Membership: NO PANICKING 😝
You get invites to all future Picture Book live Zooms forever!*
And every time we make a new film/ task/ interview/ fun thing you get access!
*When we say 'forever' and 'lifetime' we mean for as long as the course exists and we have no plans to take it down 😌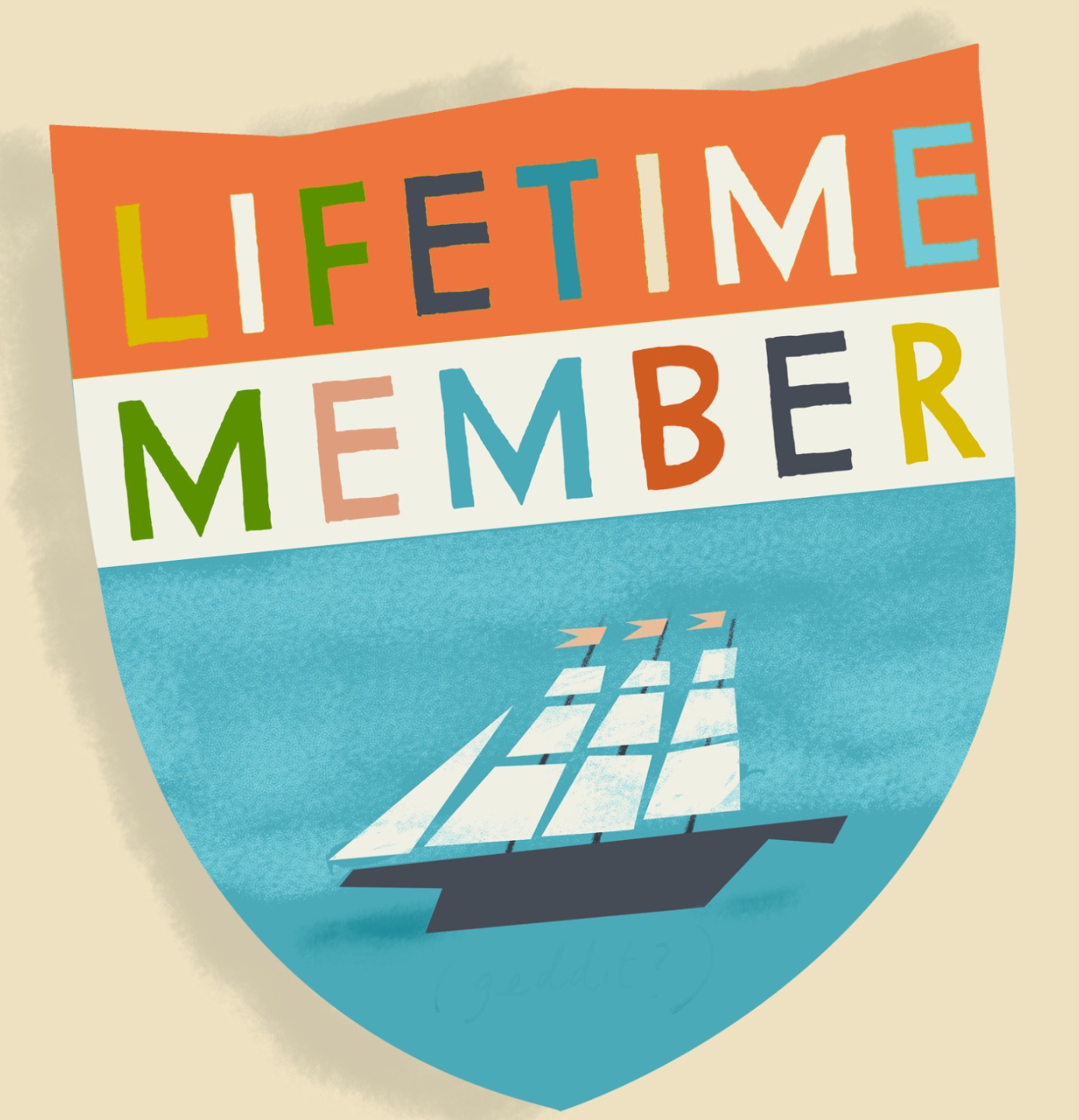 A testimonial from a happy sailor

'Thank you Good Ship! Since doing the Picture Book Course, I've signed with an agent and signed to illustrate four picture books and a few covers. I'd say it is 100% happening because I was inspired by the course and you, Helen, sharing your personal bravery about your 'year out to sort your style' story. I basically copied you and it worked! What also stands out is being treated more like an 'artist' than just an interchangeable service provider and putting more energy into voice-finding.'

Gillian Eilidh O'Mara
Carys
Helen, Tania and Katie (and Salty!) you're all brilliant.
I'm so delighted with this course. It doesn't feel like it's finished because I know I'll be coming back to this content all through my career. Like your amazing Freak Flag course, which was truly life-changing, this has opened up new confidence, inspiration and a sense of freedom for the future. And what a lovely, supportive and caring group over on Facebook too, and wonderful guest speakers. It's taught me so much about not needing to rush, that everyone has their own road and that inspiration can come from within as well as what's around you.
Jessica Ramsden
Thank you for this course
There's so much information & you've made it all so fun. It's been priceless to hear inside knowledge of being real illustrators .
I've so much to learn. I am going to go straight back through & do the bits I missed. It's so great to know that I'm able to come back & listen to the videos again as I sure there's nuggets I've missed.
Christina Koch
THANK YOU !!!! I'm grateful for this practical Toolbox,with so many interesting points of view from creatives and people related to children's books....and for the fun, positivity and warmth and a clear, simple and natural way of communicating everything and making it understandable for the ones who, like me, haven't done illustration before.
Thanks Helen for making real this idea you had in mind, and getting all these wonderful humans on board.
Give my greetings to SALTY, PEGGY and THE DUCKS , you absolutely rule!


We'll run the course again in a bit!
Do you dream about being a published illustrator-author? 
Imagine seeing your own stories on the shelves at book shops.
Get that story out of your head, and into a book. At last!
Be part of our lovely supportive online creative community.
We'd love to have you aboard.
Click here to join the waiting list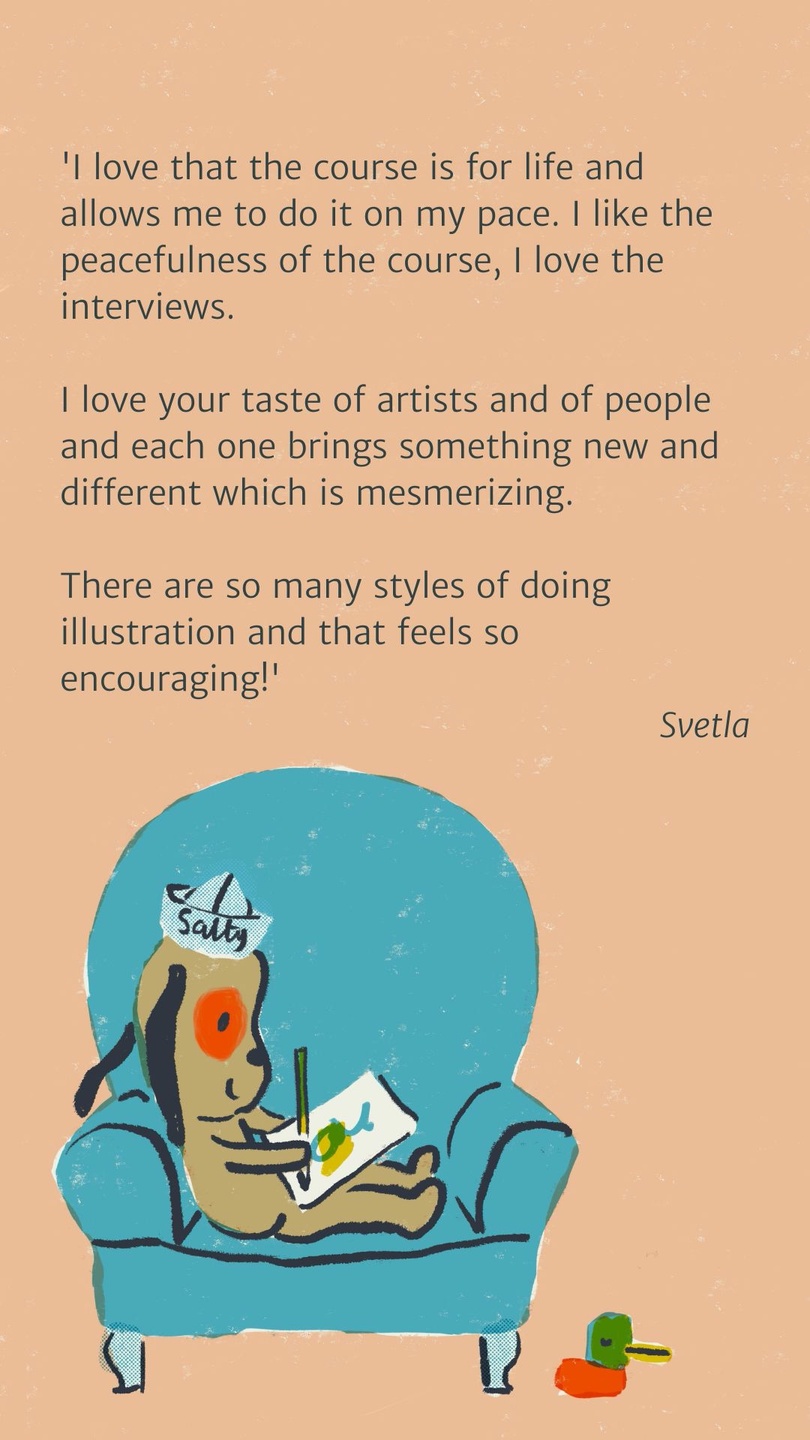 If you look closely you'll see that some of these ducks are a bit worried that The Picture Book course isn't for them.

Salty is reassuring them though.

Duck 1 has noooo idea of a picture book story. They've never written anything. They just like drawing and making stuff. There might be some rabbits scribbled in the corner of their sketchbook 👀

Duck 2 is a published picture book illustrator. They've made a few books and they're just curious to see if they can up their game even more. Quack.

Duck 3 has a big duck family to look after and they're REALLY excited about the course but also really worried about fitting it all in, what with ducks to bathe and homework to help with and a full-time duck job on top of that.

To all three ducks we yell, yeeees! This course IS for you.

Here's why:

1. Even if you don't have a story up your sleeve, this course is designed to help you create an incredible picture book from scratch.

Inside the course, we've interviewed children's picture book publishers and agents and they all say the same thing - they're always sniffing around illustrator's sketchbooks and unfinished work to find these undiscovered characters. That scruffy dog you quickly scribbled? The bunny in the corner of the page? That cheeky toddler clutching his teddy? They could ALL be your next book!

Your sketchbook is a gold mine of opportunities and characters.

Even if you don't feel like you have a story ready yet. We're here to help you discover the magic that is already lying dormant in those sketchbooks and in your memories.

2. For published illustrators, there's a treasure trove of golden knowledge-nuggets packed into these 8 weeks. We've invited lots of fellow author-illustrators along to give new angles and ideas. There is always something new to learn. We are always improving :)

3. Lifetime access and a 3-pay option to spread the cost means that even the very very busy ducks can dip in and out when they get time. We have a VERY STRICT no panicking rule. The course isn't going anywhere. We'll still be here. Even when you have an international best selling classic on your hands, we'll still be here. And you'll be allowed to join in with future live rounds too!

This is an investment that last long into the future.

There is no such thing as being behind on The Good Ship Illustration.

Ok? Ok. Good.
Juliet Pang
If The Good Ship Illo didn't put out a Picture Book course, let's just say I may have thrown the possibility of illustrating for picture books out of the window. I waited for a year for the course to start when I got scent of it early possibility, and it is well-worth the wait.
I like how Helen sees herself as a guide of this journey. And because of that, we are able to truly find our unique voice in this space and industry. You can be yourself. Plenty of advice and interviews with industry experts who are down-to-earth, tell-it-all, actual working illustrators, agent and publishers.
The power trio that is Helen, Katie and Tania, this course has a wholesome combo of expertise, experience (super useful practical tips in putting our work out), but most of all, heart. Having taken so many courses, picture book ones included, I've come to realise the last component as the leading reason why I sign up to any. Thank you for being beautiful examples of illustrators, and putting out this course. It's so honest, and so important. It debunked so many things that I was previously taught, and given me new joy and anticipation to what this journey could bring. I'm already looking forward to the next run, 3 bears! Huge love x


Jacqueline Smith
Thank you for this course which has been brilliant, I absolutely love being an official member of the "Goodship" club, illustration is something that I have always wanted to do but I felt it was kind of complicated and beyond my capabilities, even the thought of beginning was overwhelming " Where do I start?????" However your course has unlocked the mystery I have thoroughly enjoyed my journey and now I feel I can go back to the beginning of the course armed with so much information to start all over again, fully understanding the process thus putting all my new found acquired information into practise. I am so excited.
Thank you for the cheery empowering environment that you have created that has never felt intimidating or elitist, Thank you for your encouragement x your incredible act of generosity in sharing all of your acquired professional knowledge. I am a severe dyslexic who left school ( long ago) being illiterate, my journey of acquiring basic literacy skills that others take for granted has been a life long adventure where I have had to overcome many obstacles I was initially very nervous about embarking upon your internet course but hey presto it was easy to navigate and I did not need to ask for assistance. Absolutely fantastic. A big thank you from me. x
Molly Seamans
I don't want to get too hyperbolic here, but I honestly feel you ladies have changed my life. I was in the midst of a creative crisis last year when I got an Instagram ad for your Freak Flag course (thank you, algorithm.) I jumped in, figuring it was worth a try. I've tried all manner of creativity prompts and skillshares, and nothing gets my pencil going like your course content, podcasts, and art club. You've fostered a non-judgemental space in my mind for a sustainable creative practice.
When the Picture Book course came up, I didn't think I was interested, but again I jumped in on a whim—mostly because you've proven yourselves to be great at this. I can't tell you how thankful I am that I signed up! If nothing else, seeing so many creative people outline their various make-shift practices confirms that there's no *right* way, except the way that feels right to me.
Near the end of the course I got a flash of inspiration for a book idea (maybe? possibly?) and I am so excited to dive back into both the Freak Flag course AND the picture book course to see what comes of it. Even if nothing comes of it, I'm sure I'll pick up on some tidbits I missed the first time through.
Lucile Grenadine

Oh I feel a bit emotional to read it's the "finish line"! I'm going to miss your videos, it was such a nice routine. But it's so comforting to know we have lifetime access to the course, so it doesn't feel too much like the end, and as you said, it's just the beginning (of the hard work for us!!😂). Thank you so much for what you've given us, it was so rich, so fun... I feel I got lots of tools and I feel part of a bigger community. It was a great pleasure to sail with you (and Salty of course) for a few weeks! Thank you ❤
Lucile x
Kaoru Takemoto
This picture book course is well considered. What I've liked most about the course are lifetime access, and a balance of logical and intuitive methodology. I appreciate your answering my long lasting questions on zoom calls and in videos. This course solved lots of my struggles and issues that I couldn't reach during my Masters. My journey to make a dummy book is still behind, but it was great to know what I've been doing is worth pursuing. I was also aware of things I need to develop.


Cathy Challender
Thanks so much Helen. It has really blown my mind. I have been so inspired to draw. It's been just what I hoped in the way it has built on what I creatively discovered in your Freak Flag course and given me a way of putting it into context. I hope one day to publish something, but still lots of developing to do. I have now embedded the practice of drawing small people in the wild... each week I sit in the school car park and draw kids of all ages coming out of school and I love it. I will really miss you all and your brilliant contributors. It's been amazing seeing ALL the fabulous lovely people behind the books. (they were all equally wonderful but I would like to put Jarvis in my pocket for when I need cheering up) Congratulations on doing such a great job for us all. x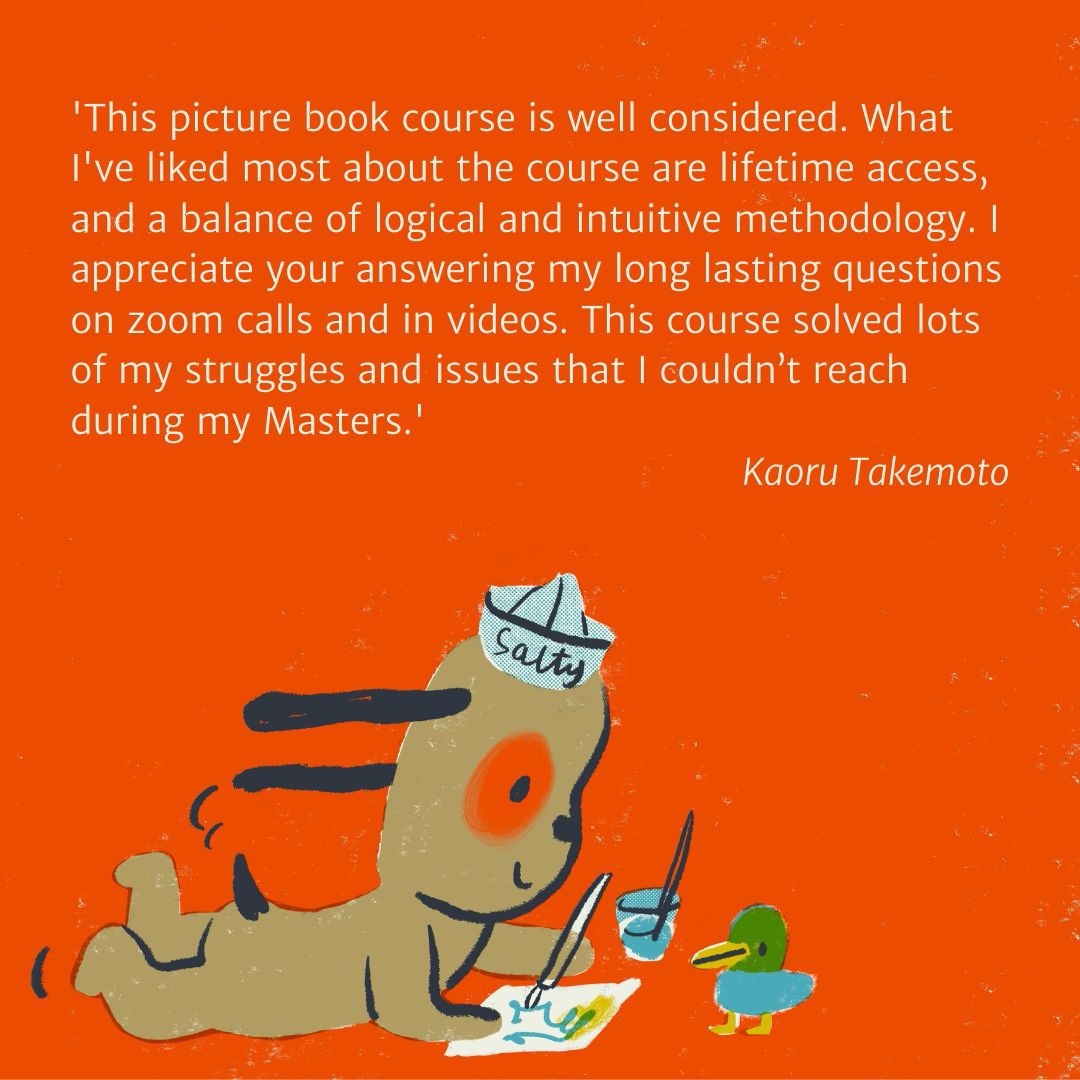 But don't just take our word for it...
Watch these videos and see what students thought of our other course, 'Find Your Creative Voice: Fly Your Freak Flag'.
Want to try a little taster?
We created our free mini course #ChildhoodIllustrated to give you a taste of what a course with The Good Ship Illustration is really like.

Unlock new ideas and inspiration. Create picture books that children really love and connect with. We'll walk you through the first steps!
Click download and you'll get instant access.
Download
Frequently Asked Questions
🚢🚢🚢 Thanks for reading these before emailing us!
I don't have an iPad or a way of working digitally...can I still join?
I did the Find Your Creative Voice: Fly Your Freak Flag course. Is this the same?
How many live sessions are there?
What time will the live calls be?
I don't have a daily practice set up. But I do have an idea for a picture book. Still a good fit?
How long should I spend on the course each week to keep up?
Does the course cover getting into the picture book industry?
How much 1:1 tuition and feedback is there?
How many people will be on the live calls?
How much does the course cost?
Will you run the course again?
I work shifts so I won't be able to make the live calls :(
Will there be a way to meet my course pals?
Doors Closing Soon...
Sign up before Friday and get your picture book dreams out into the world. We'd love to have you sailing with us. We start on Monday!
Click here to join